London Homicide Service volunteer Vera's journey to Victim Support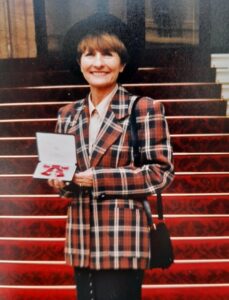 I joined Victim Support as a volunteer in January 1996. I had lived in various countries due to my husband's career. In 1994 I returned to live permanently in the UK.
Living in these countries gave me the opportunity to give my time to multi-aid agencies in teaching/training.
I taught children with English as their second language, supported those in a mother/baby unit in a women's prison and worked as a trainer in St John Ambulance.
My experiences overseas made me very aware of how fortunate we are that in the UK there is a Victim Support. A support not available to many in other countries. That is why I chose to become a volunteer.
For many years I supported victims of varied levels of crime.  In 1997 I trained to become a volunteer in what was then known as 'Relatives of Murder Victims (ROMV)'. [This involved] intensive training over many weeks and supporting families in the Crown Court.
2010 saw the emergence of the Homicide Service throughout Victim Support. [And] in 2018 I moved to the London Homicide Service Team, a team which I am immensely proud to be a part of.
I feel part of Victim Support because it is a wonderful organisation which has given me the opportunity to receive training, and the fulfilment of assisting those less fortunate as victims of crime. Not forgetting the many colleagues that I have met over the years.
I have remained with Victim Support because I value being able to listen and assist those who require help, to have had the opportunity to meet and get to know the diversity of the community that I volunteer and reside in.