Mobile phones
OwnFone offers a select range of easy-to-use mobile phones, designed specifically for children who don't need a full smart phone, so you can stay in contact with them at all times.
OwnFone mobile phones are ideal for: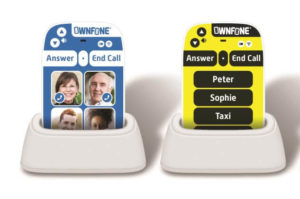 younger children or children with complex needs
young carers who want to take an approved phone into school
people who work with vulnerable people (for example, in nurseries, schools or care homes) where a standard mobile phone is not approved
people who want to feel reassured that their loved ones are safe.
I didn't feel comfortable buying Sophia (aged 9) a smart phone but I did want her to be able to contact me or a trusted adult when she needed to talk. OwnFone is a great first phone and really easy to use, especially for younger children. It gives some independence but within safe boundaries. — OwnFone customer
Key features
Safe and secure — OwnFone only calls the people you choose
Personalised — design your OwnFone with images or numbers and a colour theme to suit you
Real people are ready to help on a dedicated UK helpline
Flexible price plans with no long-term contract
28-day money back guarantee and 12-month warranty.
An OwnFone handset costs £75 (including delivery) and airtime prices start from less than £5 a month.
The OwnFone microsite is not currently fully accessible. This issue should be fixed within the next 12 months, however, if you have difficulty using the site, please email us and someone can assist you.