Internet security
DynaRisk assesses your personal cyber risk score in order to understand how vulnerable you are online and help you minimise your risk of becoming a victim of cyber crime.
Cyber crime is a growing danger and comes in lots of forms, such as your personal email and password details being stolen to commit fraud, identity theft, or children viewing inappropriate content online.
Everyone's risk is different and DynaRisk will tailor your cyber protection plan to meet your needs. It is ideal for:
People with older parents or young children who may not have the skills they need to protect themselves online
Busy professionals who don't have the time to research and learn about all the things they need to do to stay safe
People who work with their employer's data on their personal devices
85% of individuals have at least one or more cyber risk issues they need to fix.
DynaRisk offers a free online security scan and protection plans start from £14.99 a year.
Key features
DynaRisk gives you a personal cyber risk score and tailored action plan with the tools you need to protect yourself online.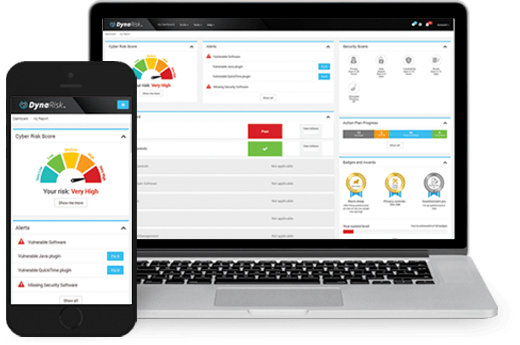 It checks over 50 different risk factors to determine your risk, including:

scanning for software vulnerabilities on your devices, such as security fixes and the latest software updates
monitoring for personal information exposed in data breaches
anti-phishing training — helping you spot the scams that cyber criminals use to try to defraud you and disrupt your life
router security scanning — reviewing your home internet router to check it, and other connected home devices, to see if you may be exposed online.

Independent advice, tools and guidance across all major areas of cyber risk.
A cloud-hosted solution accessible via PC, Mac, smart phone and tablet.