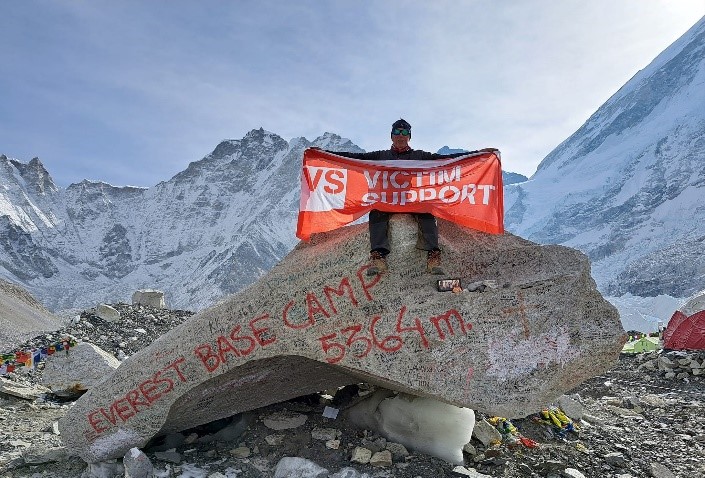 A local man, David Merrington, 78, from Uckfield, East Sussex, has just completed a 5364m trek to Everest basecamp, raising over £1,400 for the charity Victim Support, the county's leading provider of services for victims of crime.
The trek marks ten years since David started volunteering for the charity, delivering support to people in the community, ranging from those impacted by assault and burglary to sexual violence.
David said that although the trek was very tough at times, encouragement from people back home in Sussex spurred him on:
"It was a massive challenge, especially dealing with the altitude, but the beauty and immensity of the mountain range and glaciers were indescribable.

I'm amazed to have raised so much money for Victim Support. The encouragement from people back home and those following my journey on Facebook kept me going – it was wonderful."
This is the second trek David has completed to raise funds for Victim Support – four years ago he trekked up Mount Kilimanjaro, raising £1,500.
David first started volunteering for Victim Support in 2013, after retiring from his job working in police staff.
"I had spent ten years being involved in the criminal justice process, so I thought it made sense to use this knowledge to try and help people.

I started as community volunteer, providing support to victims across a range of crimes and then began to facilitate Restorative Justice, which I have also been engaged in for over nine years. This involves helping people who had been harmed by crime to communicate the impact with those responsible, giving them a voice and helping them to move on and recover – it's something I'm very passionate about."
Lisa Domican, Volunteering Manager for Victim Support Sussex said:
"I want to congratulate David on this incredible achievement and thank him for his outstanding dedication to helping victims of crime in Sussex. David is one of our most long standing and committed volunteers, who has supported countless people, over the years. The money raised through this challenge will enable us to continue delivering specialist, tailored support to victims, helping them to understand their rights, recover and feel safer after crime."
To donate to David's JustGiving page click here.
Would you like to raise money to help victims of crime feel safer and find the strength to move forwards? Find out how you can get involved by visiting our fundraising page.