Francis Wakem is one of our longest-serving volunteers, having spent over 30 years working to support victims of crime in Wiltshire. In his time as a volunteer with Victim Support Francis has raised over £150,000 for the Charity and also found time to dedicate his services to other charities across the county. He has been awarded two medals by the Queen for his work in the police service and for serving victims of crime.  He most recently attended the Buckingham Palace Garden Party to celebrate.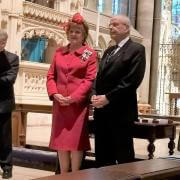 "I've been associated with Victim Support in Wiltshire since it was formed in 1988. I was a Chief Superintendent in the police at the time and the then Chief Constable recognised how important the work of Victim Support was and how much it was needed in the area. So we got involved and I had a big hand in facilitating our work with the charity from within the constabulary.
"When I retired, I was appointed Chairman of the board of trustees at Victim Support (Wiltshire), a position I held for ten years. I wanted to get involved because throughout my career in the police the focus had always been on the perpetrator and the victim was often forgotten, so I wanted to get involved in supporting victims of crime.
"Over the last 30 years working with the charity I have been involved in governance, fundraising and PR to raise the profile of the charity and to signpost people to help and support. I have also been a member of the People Committee and the national Volunteer Panel. I have recently stepped down from these committees but am still involved in supporting Victim Support locally in Wiltshire.
"I've enjoyed all of my work with the charity. I so greatly value the work of the staff and volunteers in all areas; it has been important for me to ensure the trustees are aware of the views of victims and witnesses we are supporting and ensure volunteers and staff on the ground get the support they need.
"I am proud, but also humbled, to say I've received two Honours from the Queen for my work supporting victims of crime. When I retired, I was awarded the Queen's Police Medal for distinguished service in the police and then 22 years later I was Awarded the British Empire Medal in the 2019 New Year's Honours List for services to victims of crime through Victim Support (Wiltshire) and other organisations.
"My British Empire Medal was presented to me earlier this year at a beautiful and very personal ceremony at Salisbury Cathedral with other local people who were being recognised for their services. It was a marvellous occasion – a very emotionally moving and rewarding ceremony. It was a great honour to share the occasion with members of my family who attended with me. In May I also attended the Buckingham Palace Garden Party to celebrate this. The weather was glorious with beautiful sunshine and it was a marvellous opportunity to wonder round the beautiful gardens. Several members of the Royal Family were present. I was very close to the Queen herself as well as Prince William and Kate. It was wonderful and I consider myself to be very privileged.
"Over the years I have been involved with other voluntary organisations.  For around 16 years I did a lot of fundraising for Swindon Women's Refuge; I was a founding trustee and first treasurer of the Wiltshire Bobby Van Trust which helps to provide home security for vulnerable and elderly residents across Wiltshire.  I have also served as a trustee and chair of the Board of Splitz Support Service, a charity delivering support services to adults and young people experiencing the trauma of domestic abuse and sexual violence.  In my spare time, I served as Chairman of the Wiltshire Scout Council and am presently a Vice President of the Scout Council.
Whilst I am passionate about the work of our charity, I recognise that we cannot work in isolation and acknowledge the importance of working with other agencies which is why working with and alongside other organisations is so important to me.
"In my time at Victim Support I've learnt so much about the impact of crime on the individual, domestic abuse and hate crime in particular. In my capacity as a Victim Support volunteer, I served as independent facilitator for the Crown Prosecution Services' multi agency hate crime and domestic abuse scrutiny panel, so acting as a critical friend to Wiltshire's Chief Crown Prosecutor.
"I've seen a lot of change over the years and I feel that people are getting more confident in reporting to the police, especially with crimes such as domestic abuse.
"I remember when I was just 19 and was walking the beat for the first time I got a telephone call to go out to a domestic abuse case. I remember it to this day and the sergeant I was with said 'calm down, it's only a domestic, they will sort it out themselves'. A lot has changed since but let's not get complacent – there is still a lot be done.
My aim has always been – and always will be – to get the best outcome for victims and witnesses of crime and for people who have suffered as a result of traumatic events and other forms of harmful behaviour.
"The enjoyment I experience – or perhaps my personal fulfillment – is knowing that as a member of a team of dedicated and caring staff and volunteers I have been able to contribute in a small way to securing the best outcome for the individual concerned.
"To anyone considering volunteering their time with Victim Support, I would say make sure you do what you love doing and what you feel passionate about. Being locally based but also part of a national organisation means you can have opportunities to expand and widen your own personal horizons – from service delivery through to contributing to matters of governance and fundraising."
Could you consider volunteering for us? We always need new volunteers to join our local teams so please view our current opportunities — we'd love to hear from you!